Blockchain is a trendy technology everyone is crazy about. Its ghost-inventor, Satoshi Nakamoto, developed this technology in pursuit of freedom, allowing digital information to be distributed but not copied. Simply put, blockchain is a decentralized network, which is sometimes called "the new Internet".
However, blockchain has a much greater impact on the world. Let's look at one of its use cases – cryptocurrency. It has made financial transactions transparent and got rid of additional bank fees. The crypto coins like Bitcoin and Ethereum have revolutionized the traditional economy. Later we are going to answer the one most widespread question – how much does it cost to create cryptocurrency, so if you are into it, keep on reading.
Today, blockchain is mostly associated with the crypto market and all the infrastructure related to it: cryptocurrency wallets, trading platforms, live games like CryptoKitties and a bunch of other crypto applications.
But blockchain is not limited to cryptocurrencies. There are many different apps for various industries. They help businesses reduce costs, save money and securely store data.
Let's dig deeper and focus on various applications of blockchain and its actual costs (including total blockchain development costs)
In this article we will explore:
– Exact rates of blockchain developers
– The cost of creating a cryptocurrency
– The cost of developing a crypto wallet
– The commercial cost of blockchain development
Interested? Let's have a closer look
HOW MUCH DOES IT COST TO HIRE A BLOCKCHAIN DEVELOPER?
It's not an easy task to answer this question straight away. Blockchain and cryptocurrencies are in their infancy, so it is challenging to find the right professionals that can deliver the end product in time.
According to Codementor.io,
there are two types of hourly rates the developers charge – average and median:
– average hourly rates range from $81 up to $100
– median hourly rates range from $61 up to $80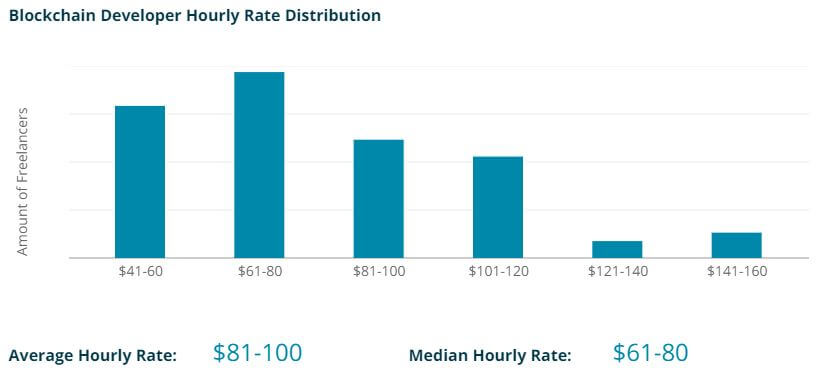 The best way to cut the cost of blockchain implementation and development cost – use offshore or nearshore software development services. This process is also known as software outsourcing. There are lots of companies in the US, which have development offices outside of America. The most common countries for outsourcing are Belarus, Ukraine, Poland, India. We have the development office located in Belarus, so we can provide reliable and relevant information about blockchain development costs.
During outsourcing software development, you hire the remote development team with a project manager and a tester. They provide a neat code and have twice lower rates than their American colleagues. The average hourly rate of a blockchain developer in Belarus starts from $40.
HOW MUCH DOES IT COST TO CREATE A CRYPTOCURRENCY
Today we have more than 2000 different cryptocurrencies, so creating a token that will stand out from the crowd is a tough task.
People do not trust the new form of money yet as they believe that the crypto industry is full of scams. This way, it takes much time and effort to convince the community that the new crypto coin is a worthy investment.
We will briefly describe the whole process of cryptocurrency creation and provide the overall estimates.
There are several aspects we need to take into consideration:
– Find the team of experts
– Build and sell the crypto-coin
The team of experts is essential. To successfully launch a coin on the market, you need a team of advisors in marketing, software developers, cybersecurity specialists, PR managers and so on. These people will help you find investors to give credibility to the project. Also, it is necessary to find an advisor in cryptocurrencies to guide you through the market. Communication with your target customers is also critical.
You need to understand how to promote new cryptocurrency and earn a profit. Thus, it is essential to cater to the needs of your audience, communicate your main benefits, show your competitive edge, and so on. Here is why you need a marketing advisor, who will plan your marketing activities.
Once the marketing strategy is molded, you can proceed to the blockchain network development. It will take a month or so for developers to build the network from scratch with C++, Java, Python, Solidity or other technology, making no difference what technology to use. It will cost from $15,000 up to $50,000 according to many different technical aspects.
Another critical moment – how to make your cryptocurrency legal. Today, even the most well-known cryptocurrencies like Bitcoin and Ethereum face tough regulation issues all across the globe. So, the legal advisor is mandatory for every blockchain product.
Finally, to create a new cryptocurrency you will need about $150,000-$200,000 with no marketing expenses included.
HOW MUCH DOES IT COST TO DEVELOP A CRYPTO WALLET?
Another frequently asked question is "How much does it cost to develop a crypto wallet?"
A cryptocurrency wallet is a digital application (like the real wallet) used to store, send, and receive digital currencies securely. Most coins (cryptocurrencies) have official wallet apps or a few recommended third-party wallets. In other words, to use any cryptocurrency, you will need to use a cryptocurrency wallet.
Let's discuss the development price of a custom crypto wallet.
Usually, the application is built for three different platforms: Android, iOS, and Web. You may cut the development price if you use cross-platform technologies like JavaScript and its frameworks (ReactJS, React Native or Vue). Still, it requires a considerable amount of work that needs to be done.
Thus, we need to work on both the client side for mobile devices or Web and the server side with the REST API (CoinAPI, for example). Another option is to build a standalone application. Every approach has its own advantages and disadvantages.
You will need a dedicated team that consists of several senior developers, a business analyst, a project manager, and a QA engineer.
Building a Minimum Viable Product (MVP) for a cryptocurrency wallet that supports the three major cryptocurrencies (Bitcoin, Litecoin, Ethereum) will cost you around $40,000.
WHAT IS THE PRICE OF COMMERCIAL BLOCKCHAIN DEVELOPMENT?
Blockchain has changed over recent years. It has evolved from a cumbersome tool used by crypto enthusiasts into a scalable decentralized platform for industry-specific applications.
Today, these blockchain-based applications are used by both niche startups and huge corporations like Kodak.
According to Forbes, we can use blockchain applications for different industries:
– Cybersecurity
– Healthcare
– Manufacturing
– Legal and Government
– Charity
– Retail
– Real Estate
– Tourism
– Media
– and many others
This fact proves that blockchain is not only about financial transactions – it is able to facilitate virtually all sectors and helps us to deliver and store data more effectively.
But, what exactly can we develop and how much does blockchain cost to implement? Unfortunately, we cannot provide you with a clear-cut answer. Blockchain is a feature-dependent technology, so the final price will vary in accordance with the project requirements.
We should say that the blockchain app development cost starts at $5,000 and can go as high as $200,000.
SUMMARY
Although blockchain was invented in 2008, it has gained publicity as a technology independent of Bitcoin only recently. Hence, there are not so many commercial companies with substantial experience that can provide you with accurate blockchain development estimates.
Moreover, the cost of implementing blockchain may vary substantially due to the number of features and factors such as:
The Industry of the application;
The complexity of the project;
The kind of app you are asking for;
Cost of the 3rd party tools used;
Cost of people involved.
The described prices are only the average market estimates.
So, if you want to know the exact cost of your project or idea – contact us and provide your project details. We will make the approximate estimates for free.